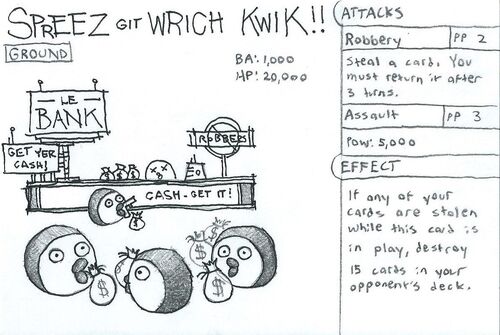 Spreez Git Wrich Kwik is a Fighter Card created by Ben. It depicts sprees robbing a bank.
Depiction
Edit
In the card, four sprees are robbing a bank. Three of them are sorting through bags of stolen money. The fourth has just shot a skree working at the counter and is proceeding to take more money.
There are many signs at the bank. One says "Le Bank". One says 'Get yer cash!". There is one that says "Robbers" crossed out ("no robbers"). On the counter, there is the text "Cash- Get It!".
The card has a BA level of 1,000 and an HP level of 20,000.
Steal a card. You must return it after 3 turns.
PP: 2
PP: 3
POW: 5,000
If any of your cards are stolen when this card is in play, destroy 15 cards in your opponent's deck.
Set/Subtitle
Edit