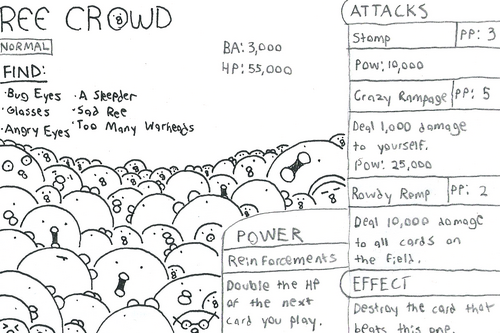 Ree Crowd is a Fighter Card made by Ben.
Depiction
Edit
A huge crowd of rees has assembled and gathered- they are packed so close together that the ground cannot even be seen. The crowd extends outward to the horizon.
A special "easter egg" of sorts has been included with the card. A guide instructs the user to find many kinds of special rees in the crowd:
(not listed) A Unilipper/Sclee
The card has a BA level of 3,000 and an HP level of 55,000.
PP: 3
POW: 10,000
Crazy Rampage
Edit
Deal 1,000 damage to yourself. PP: 5
POW: 25,000
Rowdy Romp
Edit
Deal 10,000 damage to all cards on the field. PP: 2
Destroy the card that beats this one.
Reinforcements: Double the HP of the next card you play.