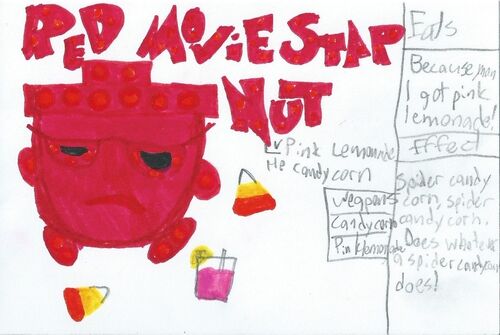 The Red Movie Star Nut, made long ago by Ben, is one of the first Junk Cards and arguably the most recognized.
Depiction
Edit
The card shows a red nut with a displeased, groaning frown. He wears light-studded glasses, and his feet and nut cap is light-studded as well.
Candy corn and pink lemonade are positioned around the nut, as a reference to the card's Eats and Effects.
This card has no type; were it to be used in a duel, it would be Normal-type.
The card has a BA level of "Pink Lemonade" and an HP level of "Candy Corn".
The actual HP and BA levels are not listed.
Because, man, I got pink lemonade!
Spider candy corn, spider candy corn. Does whatever a spider candy corn does!