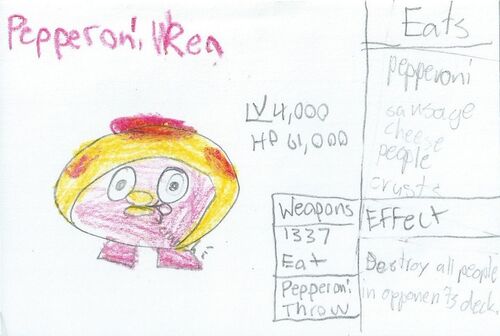 The Pepperoni Wrea is a Classic Card and a Fighter Card created by Ben and then edited later by Jack. It depicts a wree (mislabeled as a wrea) that has large, red spots.
Depiction
Edit
The wree on this card is mislabeled as a wrea; it is actually a wree. Wreas have both arms and legs. Wrees, like this one, only have legs.
The wree is large and appears to be red with yellow lips. It is wearing a yellow suit with red spots that resemble pepperoni. Its eyes, unlike most rees' which are closed most of the time, are wide and bulging.
It is seen in this picture chomping on an unfortunate stickman, denoted by the sound effect CRUNCH.
This card is Normal-type.
The card has a BA level of 4,000 and an HP level of 61,000.
Pepperoni
Sausage
Cheese
People
Crusts
Destroy all people in your opponent's deck.
1337 Eat
Pepperoni Throw