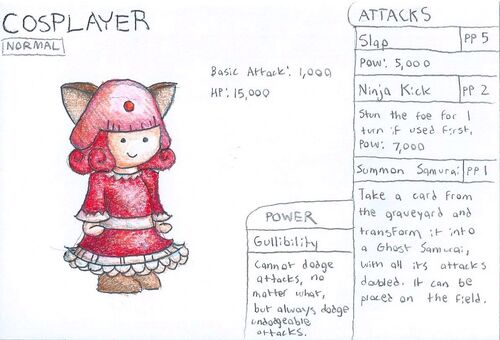 The Cosplayer is a
Fighter Card
made by
Ben
, modeled after the Scribblenauts cosplayer, which he found oddly amusing.
Depiction
Edit
The card shows Ben's rendition of the Cosplayer from the Wii U game Scribblenauts Unlimited.
The card has a BA level of 1,000 and an HP level of 15,000.
PP: 5
POW: 5,000
Ninja Kick
Edit
Stun the foe for 1 turn if used first.
PP: 2
POW: 7,000
Summon Samurai
Edit
Take a card from the graveyard and transform it into a Ghost Samurai, with all its attacks doubled. It can be placed on the field.
Gullibility- Cannot dodge attacks, no matter what, but always dodge undodgeable attacks.